CONTACT US
You can reach MV Sightseeing at 23 Lake Ave Oak Bluffs, via email at [email protected], and via phone at 508-693-1555. For private charters for weddings or special events please email [email protected] and we will get back to you at our earliest convenience.
MV Sightseeing is located along Oak Bluffs Harbor, and nearby the historic Flying Horses Carousel.
Our depot is steps from the ports of various ferry boats including:
Our tour bus meets all boats daily from April through October.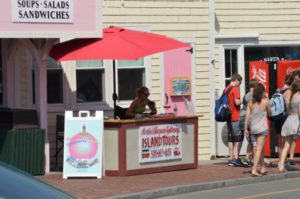 Tickets are available for purchase online here by calling us at 508-693-1555 and on-board the Hy-Line, Island Queen, Martha's Vineyard Fast Ferry, and at our retail ticket offices in Oak Bluffs, at the Steamship Authority terminal in Woods Hole, the Island Queen terminal in Falmouth, the Hy-Line Cruises terminal in Hyannis, and the Martha's Vineyard Fast Ferry terminal in North Kingstown, Rhode Island.
To purchase tickets in person on Martha's Vineyard, or to gather for your pre-arranged tour, please meet at our ticket booth located on Lake Ave, Oak Bluffs, in front of the Big Dipper Ice Cream & Cafe, and across from the Oak Bluffs Information Booth. Advance reservations are recommended, but not required for our bus and trolley tours.
"
Perfect Tour of MV, If It's Your First Visit
Wanting to get as much information as possible in the one day we visited the island; this was the ideal tour. Driver certainly knew the ins-and-outs of MV and was generous with this knowledge.
– Lisa N.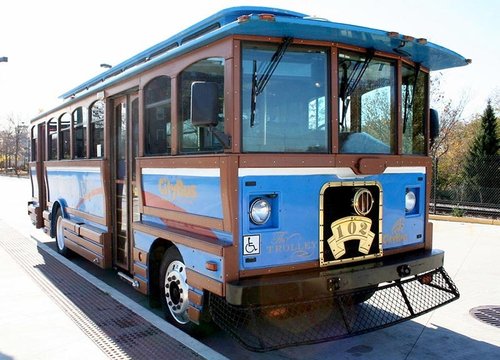 "
OUTSTANDING!!!!
Very affordable for almost a three hour tour! We got to stop and look around and some of the tour sights and the tour guide taught us a lot about all aspects of Martha's Vineyard!! If you are looking for a fun and educational tour this is definitely it!
– Jennie L.
For additional details or to arrange a private tour please fill out the form below. For all charter transportation and wedding bookings please complete the form at the bottom of the page
here
.