MV SIGHTSEEING HAS BEEN PROVIDING THE ONE AND ONLY BUS AND TROLLEY TOURS OF THE ISLAND SINCE 1987.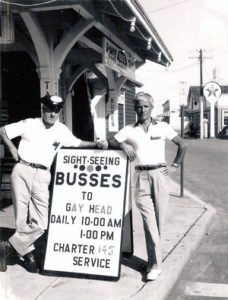 IT ALL STARTED WHEN…
My father, James "Jack" Dario, moved to Martha's Vineyard and bought a gas station. He had the opportunity to purchase a second one, but it came with a catch–a tour company was part of the deal. My dad wasn't so much interested in getting in the tour business, but he acquired it anyway. We took over Island Transport in 1987 and the rest is history.
Island Transport took off, initially providing service almost exclusively to the passengers of the Schamonchi, a ferry that regularly ran between New Bedford and Martha's Vineyard, filling close to four buses a day with sightseeing-hungry day trippers. Eventually we purchased Gay Head Sightseeing and MV Sightseeing, and today we still own and operate all three (though MV Sightseeing is the name most people will come across).
In addition to offering tour transportation, we were the original public transportation provider on Martha's Vineyard before the Vineyard Transit Authority (VTA) bus line, providing private carrier service to anyone on Martha's Vineyard six months out of the year. As if that wasn't enough driving around, my dad also ran the Martha's Vineyard school bus system for twenty years.
You could say transportation services are in our blood. Since the late 1990s I've been at the helm of MV Sightseeing, continuing to evolve the company and its offerings. Not only have we added new tour buses and continued to improve the fleet, but I recently purchased the Vineyard's only trolleys. As the wedding industry on Martha's Vineyard has taken off we've become a go-to for special event charters, while evolving our beloved Island tours.
For generations MV Sightseeing has been committed to the safety and satisfaction of our customers, and we thank you for considering us as your transportation provider on Martha's Vineyard.
– Scott Dario, owner, MV Sightseeing